People - Brigitte
Name: Brigitte G. Mann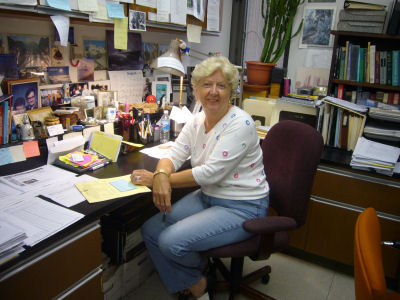 Title: Laboratory Manager/Assay Core Manager
Degree: MS Biology, University of Illinois
Northwestern University
Department of Neurobiology and Physiology
Hogan Building Room 2-120
2205 Tech Drive
Evanston, Il. 60208
Phone: (847)491-5528
Fax: (847)491-5211
Email: b-mann2@northwestern.edu
It has been my good fortune to have worked for two of the most outstanding scientists in the fields of Neurobiology, Physiology, and Endocrinology , Dr. Neena B. Schwartz(30+ years) and now Dr. Jon Levine for the past 6 years.
They have instilled in me a commitment to excellence that has carried over to all I do whether work-related or otherwise. What has continued my dedication to research and academia was my very first senior author publication in Neuroendocrinology titled "Examination of Pituitary and Ovarian Variables during a 24-Hour Period in Rats after Prolonged Exposure to Continuous Light".
I am pleased to have been able to work with some superior graduate students, undergrads, and post doctoral fellows to achieve their goals in research. We have always been fortunate to have attracted a very diverse and motivated group of students.
I manage the laboratory and run our ASSAY CORE FACILITY. We have many collaborators and investigators throughout the US who access our assay core.
When not in the lab, I enjoy my time with my family and retreating to my garden to rest and recharge. My love of gardening is only exceeded by being able to paint my favorite memories of times and places. Reading my favorite mysteries and cooking follow as close seconds.
Dr. Jon E. Levine
Department of Neurobiology and Physiology - Institute for Neuroscience – Center for Reproductive Science
Northwestern University
2205 Tech Drive, Evanston, IL 60208. Office Phone: 847-491-7180. Lab Phone 847-491-7949

E-Mail: jlevine@northwestern.edu

Like the website? I can help you too! Contact Will